Add Your Inner Self in it!
Trends are great starter patterns, as long as you remember that they carry an expiration date.
One thing that doesn't often changes is your personality, taste and things that uplift your soul.
Are you a reader? Do you surf? How about playing any instrument?
Put who you are in it, even in small hints.
There's no better way in knowing someone than visiting his (inner) home.
Make it as Comfy as can Be!
I wish that I could count the amount of times that I've entered a beautiful home, and felt.. uncomfortable. This made me promise my family to always keep it comfy (I even had to sacrifice leather & velvet under that promise),
But at the end of the day, when we all sit around the dinner table and raising some ideas to our next family vacation..
It always ends up with, "Meh…Will it be as comfy as our home?"
Today its even easier than ever with so many modular furniture and storage ideas
that doesn't compromise on the look either.
Don't overwhelm and don't overdo!
I can go on with the "study shows…bla..bla.." but we all (even if we won't admit) feel much more calm and comfortable
When our surrounding is open, bright and clean rather than stuffed & clogged.
Still want to overwhelm? No problem, pick up a specific area for that and leave all other freeways open.
Another added benefit is, less dusting and cleaning for sure!
While cluttering is uh-oh, Layering is Oh-Yeah!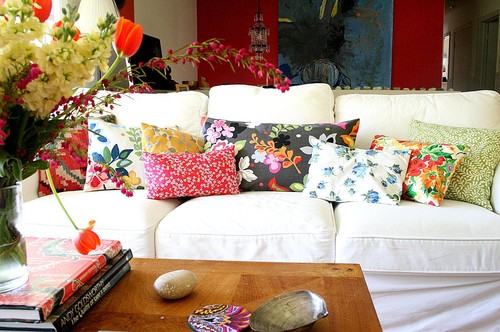 Its the easiest and most fun way of decorating a room.
Whether layering with accent pillow, throws, books or even dining set on the table,
A simple layering can add so much volume and character to the space.
Adding an area rug can connect the dots of the different patterns in the room or balance some wild layering as well.
Don't be shy, try and throw some layers in.. You'd be surprise of how much sense it could mean.
Mix & Match!
Adding New & Old, pale & bold is the best design code!
Mixing patterns, materials, styles and more as long as there is a form of connection between them,
Will bring any space to life! Keep one pattern as your main one and kick in about third of all other patterns.
One or Two antique pieces always add a majestic touch to the room